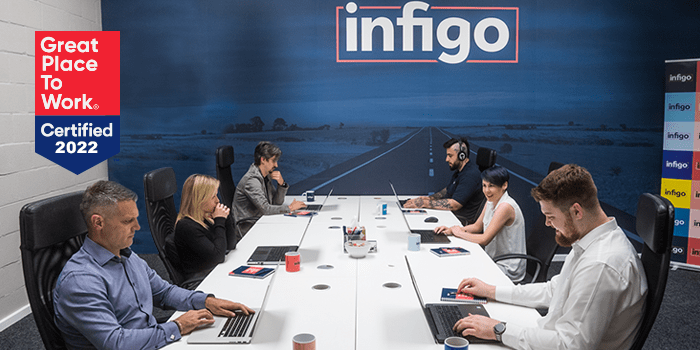 It's official: Infigo is one of the best UK firms to work for
Sir Richard Branson famously said that a businesses' success depends on how well its employees are treated. Which is why we've always taken to heart quotes such as "Train people well enough so they can leave, treat them well enough, so they don't want to" and "Employees come first. If you take care of your employees, they will take care of the clients."
And many of our clients tell us that its the team behind our web-to-print platform that puts us ahead of the competition. Which is why creating a positive company culture has been a priority for Infigo.
Positive company culture
We have always strived to create a working environment where colleagues have clear set goals and objectives, but are given as much autonomy or support as they require to achieve their goals.
Where they can choose how regularly they want to be in the sociable office or work from home. Where they are emboldened to take new approaches to old problems.
Official certification as a Great Place To Work
But now it's official. We're absolutely delighted to have gained official certification as a Great Place To Work.
Douglas Gibson, CEO & Founder of Infigo, said: "To be recognised as a Great Place to Work® by THE global authority on workplace culture, is something we're extremely proud of. However, I doubt it'll come as much of a surprise to our clients and colleagues.
"We're often asked what the secret of our success is. In 10 years we've grown from a small start-up with three employees to a global enterprise with offices in the UK, Europe and US.  The simple answer is by attracting the best talent the industry has to offer.
"We have always aimed to be competitive with salaries. However, we learned a long time ago that while salary is integral to attracting talent, it's a supportive environment, where employees have purpose and the opportunity to make a genuine difference in the company, that keeps them here. Often for many years.
"This is borne out by the low rate of turnover we have and the number of colleagues that have stayed with us for so long. There are also many that have left, only to return down the line.
"But to have official certification proving what a fantastic place Infigo is to work is a great honour."
The Great Place to Work® standard
To achieve Great Place to Work® certification, the organisation carries out in-depth employee surveys and culture audit (assessing your company's culture, programmes and practices). If certain benchmarks are reached, then accreditation is achieved.
Take your career to the next level with Infigo
Whether you're a developer, marketer, finance manager or project manager we are always looking for superstars to add to the ever growing team.
So, If you are looking for your next challenge, check out our careers page. As you might have guessed we love a proactive approach, so if you have the skills you think we need, don't wait for that role to appear – get in touch and tell us why we should interview you now.