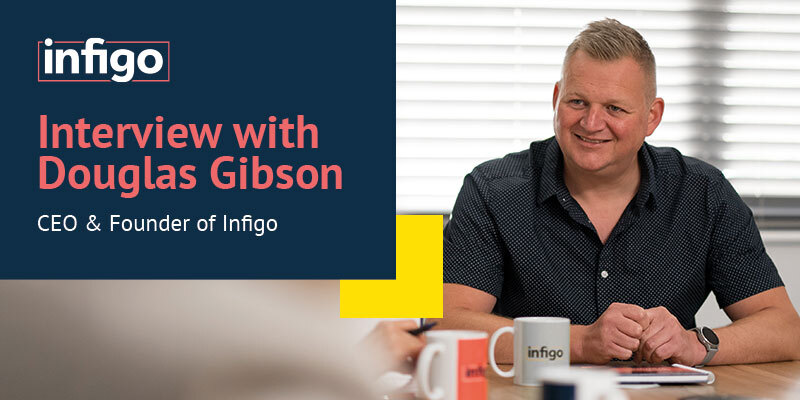 Did you know that 60% of businesses fail to make it beyond their third year of trading? Often, it's bloody-minded determination from a passionate CEO that makes the difference between failure and success.
Ask any business leader and they will tell you that building a sustainable enterprise takes long days, sleepless nights, personal and financial sacrifice and a very patient and forgiving spouse.
Which is why 10 years after the launch of Infigo, CEO Douglas Gibson can reflect on the moments that have helped establish the web-to-print provider as one of the most disruptive companies in the industry.
I caught up with Douglas to look back (as well as forward) on this journey.
What was the driving factor in setting up Infigo?
The biggest one was, simplicity. I was actively engaged in the industry and realised there was a big gap. There were too many products out there that were too expensive, too complex. So we wanted to create something that was easy for the printers to use, easy for them to manage and didn't cost a hundred thousand dollars to set up. That was the biggest driving factor.
What was the pivotal moment where you realised that you could be a successful business or piece of software?
Well, I think when we started really, it was right at the beginning when we started picking up contracts with big names, for example British Gas and then Tesco. We realised that we had something that could very quickly be adopted, and people liked. And we still have a few of those original customers using us to this day.
So how many staff did you start with?
I think it was about four people we started with. It's truly incredible to see how much we've grown. Our team now expands over land, with an office in Moldova, and overseas, with staff in the USA. I'm very proud of having a bunch of people who are not only knowledgeable, but dedicated to use their knowledge to improve our offering and help our customers make the most of our software.
We often hear employees refer to the company as the "Infigo family"…
Yeah. Perhaps we overuse the word family at Infigo but I strongly believe we are a family, supporting each other in good times and bad.
It's been a journey, particularly over the last couple of years. We've had to learn from working in new environments. I'm sure there are lots more things over the next 12-18 months that we're going to have to get used to. But the reality is we all have each other and can lean on each other.
Over the last 10 years, are there any moments that have really stood out?
I think choosing to deliver a HTML5 editor. We were debating whether to go with Adobe Flash or HTML5, and initially we agreed on Flash – which is no longer supported by browsers. We left the meeting and I remember getting on the train, ringing them up and saying no, let's do HTML5 instead. I think at that point, we brought one of the freshest editors to the marketplace. Although we've got lots of other things, I think it's been our editing capabilities that meant people really bought into our product.
And before COVID, what was the biggest challenge for Infigo?
It was managing growth. I think that's the thing – growing with the people, managing cash-flow, choosing the right opportunities that are the right mix. It's not about saying yes to every customer. It's finding the customers that we can do well for, and deliver to, but still fit in with our brand, our values and our focus.
What was the thinking around the rebrand and how it represents where Infigo is now?
During a pandemic and numerous lockdowns, perhaps we should have been laying down and being quiet – but anyone that knows me, and knows Infigo, knows that's not what we're about. So, at a time when conventional wisdom would say we should preserve cash, sit back and see what happens, we instead decided to rebrand, we decided to bring in a whole load of new features.
Like any business, in some ways it has grown organically and not strategically. So this was about realigning the business with a clear strategy of simplicity. Which is the core of what we're doing with the new brand as Infigo. So simplifying our products, simplifying the mix, simplifying our offering, our pricing, all of those sorts of things to the existing customers, and the new customers we bring on.
The rebrand is more than just about a new logo. We've always had our values and our mission, which are so important to us. But they've always been in our collective heads – we've never written them down…
Until now. The brand has been reborn, I absolutely love it and the feedback we've had from our customers has been fantastic.
So there has been quite a few changes over the past decade. What is the one thing that hasn't changed?
I think that it's one of our core values –  that the people are who makes Infigo successful. We look after our staff, we look after our customers, and continue to push the boundaries of the technology that we create. We try not to get too hooked up on what others in the market are doing. It's about paving your own clear way, of defining what that market should be, by really listening and working with our customers and partners.
I also think our relationship with HP has been pivotal to our success. And working with other great people, like Tharstern, printIQ, and Enfocus as well with our customers. I think that's what's helped us achieve growth, through the good times and the bad.
How do you feel leading a company that has survived 10 years, knowing that so many don't survive more than just a few years?
In our 10th year, we have never been stronger, and we've got everything in place. I think that's one of the many things that I've learned. Everybody says 'it takes three years to build a ship', but I think it takes longer to build a successful business, that's got resolve, to grow, to add value and not to just be one of these fly-by nights.
Do you have a message for Infigo's customers?
Thanks for the patience. We don't always get it right, but I think they appreciate that the intention is there and our heart is always in the right place. We hope they've enjoyed the product and it's helped them grow and succeed as a business.
We're not stopping here. I feel, in a weird way, that although getting through Covid has left me rather tired, now with the rebrand and all the other exciting things we've been working on – it's a revolution. Really, we've spent 10 years improving, and now the next 10 years is really about adding some serious value to our customers. Really pushing on with the feature set, really delivering on that.
So if you could give a message to prospects what would it be?
Well, I think if you're looking for an organisation that is committed to your journey, and will provide evolution, with a fantastic product, all of which backed by world-class customer service team – then their really is no need to look any further than Infigo.
What do you see the next 10 years looking like?
Continuing to grow our global reach, to continue to improve, to continue to deliver even better customer service, continue to work on our partnerships with other industry disruptors. I wouldn't say it's going to be about changing too much, but instead improving what we're already doing.
We've got a really solid foundation now, so we're not turning that on its head – but really pushing forward instead. Probably going up a gear or two in terms of sales, because we can. But we have the infrastructure, we have the marketing, we have all of the technicalities. We've done a huge amount of work with our technical infrastructure, moving to Amazon Web Services, and all of the advantages yet to come from that.
If you can't already tell, I genuinely believe that as a business, we've never been stronger. We have all of the right people; we have the best technology and we have lots of new exciting features coming out.
I'm massively energised, and there's a lot more we're going to get done just over the next two to three years, let alone another decade. Infigo's thriving and I feel truly blessed.
Infigo marked this milestone with an emotional celebration (including cake and champagne) at our UK headquarters – you can read more about it in our blog.
To see a timeline of the key events during the past 10 years, check out our 10 Years of Infigo Company History timeline.