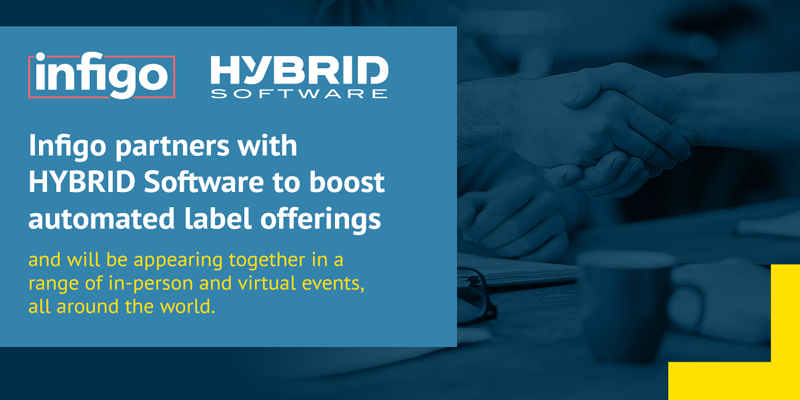 We are excited to officially partner with labels workflow automation experts, HYBRID Software.
Infigo continues its industrious start to the year by announcing a partnership with global automation specialist, HYBRID Software. Having worked on client projects together, and also as members of influential label trade organisations FINAT in Europe, and TLMI in the US and Canada, the two organisations realised that they had a lot of common ground.
Both organisations share similar organisational values and are passionate about helping label converters around the globe achieve growth through automation.
Infigo CEO and Founder, Douglas Gibson, said about the announcement; "Working in partnership with other leading experts has always been a driving force for Infigo. Our platform is just one small, albeit highly effective, part of an automated workflow, so it's important to have dedicated partnerships with other industry trailblazers."
"Every client is different. Every workflow is different. However, we would have no hesitation in recommending HYBRID's products to existing clients and prospects."
"Having already worked with HYBRID Software with our joint client Baker Labels, and sharing visions at various trade meetings we realised that a partnership would not only be extremely beneficial to both companies but most importantly to our respective customers, wherever they are in the world."
Antonia Fagan, Partnership Growth Manager, said: "We're very excited to be working with the teams at HYBRID to automate even further than we ever have before! We have already helped clients achieve workflow automation during the pandemic by working together, which meant they were able to continue production even during the height of lockdown. So it's exciting to see what the future holds for our respective clients by formalising this partnership."
Paul Bates, HYBRID Software Manager – UK, Ireland & Global Accounts Manager, said that with a changing workforce, who have very different expectations when buying print and the impact of the pandemic, automation was a high priority for all label converters around the globe.
He said: "All label and packaging customers are trying to do the same thing, which is automation. Adding Infigo to the front of the workflow will provide personalisation with further automation and additional revenue streams."
Infigo and HYBRID Software will appear together in a range of in-person and virtual events over the next year all around the world.
The first event, where you can discover the many benefits of an automated workflow, will be in the UK at Packaging Innovations & Empack Birmingham and we invite you to stop-by and see our market-leading web-to-print solution live in action.
So, stop-by HYBRID Software Stand: C72 and see for yourself!