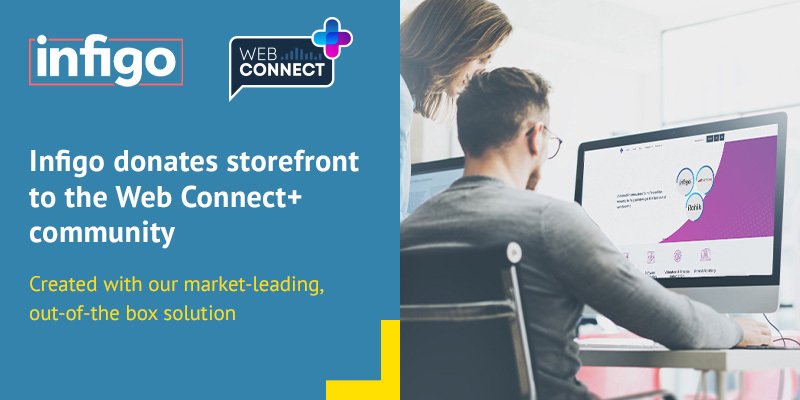 Infigo donates beautifully branded website to Web Connect+ print automation community.
We're putting our money where our mouth is by creating a brand new digital home for the Web Connect+ printing community.
Using our cutting-edge technology, Infigo has demonstrated the flexibility of the platform by creating a uniquely branded, dynamic storefront that will not only provide a central information hub for those interested in the power of print automation, but will provide the foundation for a range of demonstrations to the printing sector.
Web Connect+ was formed by Infigo, Significans and Tilla Labs to create a free global community, advocating and demonstrating the benefits of an automated print workflow.
Now boasting seven partners, ranging from software integrators to robotics, the community has hosted a range of webinars, focussing on different components of an automated workflow – from design and ordering, through to pre-flighting, processing, cutting and production.
The new site, created with our market leading out-of-the box software through the core Infigo platform, shows how easy it is to create uniquely branded and formatted storefronts, even if you have limited web design experience.
Chris Minn, Global Marketing Manager here at Infigo, said: "We have had a huge response from the webinars that we have held with our Web Connect+ partners.
"We've been making some powerful statements about the benefits of web-to-print and automation and how easy it is to creates storefronts, add products and integrate with other systems. However, there is no better advertisement for the platform than showing how amazing these storefronts can look, using pre-set templates and tweaking them to your brand."
Web Connect+ will be showcasing the benefits of a completely automated workflow at Graphics Canada, with a groundbreaking demonstration, creating an automated production line across a 100 foot booth.
Using the Infigo-hosted Web Connect+ storefront, attendees will be able to see how easily a storefront can be created, populated with products and integrated with other systems.
Chris continued: "Infigo is delighted to provide Web Connect+ and its collective community with its very own Infigo platform.  The platform boasts storefront capabilities that allow users to create and launch a working web-to-print storefront in under 10 minutes.
"Infigo demonstrated the speed-to-market feature back in October at Printing United where we showed how you can create a storefront in just 6 minutes. Not only have we provided a digital home for the Web Connect+ community for many years to come but we will also be able to demonstrate how robust the platform is when it comes to scaling over that time.
"As well as demonstrating how easy it is to create storefronts for different brands, we will be able to show users how many storefronts can be hosted by an individual user or organisation, which in this case is Web Connect+."
For those who would like to learn more about the benefits and potential pitfalls of web-to-print and print automation the site provides information and actionable advice on:
Exactly how web-to-print and automation works – from creating storefronts, to integrating with your other systems, to streamline and automate a range of manual processes
The increasing role that AI and automation is playing in all industries and how those slow to adopt put themselves at a disadvantage
The flexibility of web-to-print, regardless of the sectors you serve (from label printers to wide format)
How end-to-end automation is possible, which means you can receive and process orders 24/7
How web-to-print gives you a global presence and a highly competitive edge
The pitfalls to avoid – from choosing the right platform, the importance of having a business strategy and appointing a business champion in place to drive the project forward
How, with the right platform and integrations, you can reduce processes from days to minutes
Why web-to-print isn't about short-term profits but about positioning your business for growth in the coming decades
How web-to-print and automation can significantly reduce your overheads and your businesses' impact on the environment
The role web-to-print and automation can play in combating supply chain issues
And much, much more
If you would like to visit the full Web Connect+ automated end-to-end turnkey print factory experience at Graphics Canada's 60th anniversary expo, between 13-16th May 2023 at the Toronto International Centre and you can come along with FREE Infigo VIP tickets worth up to $80.