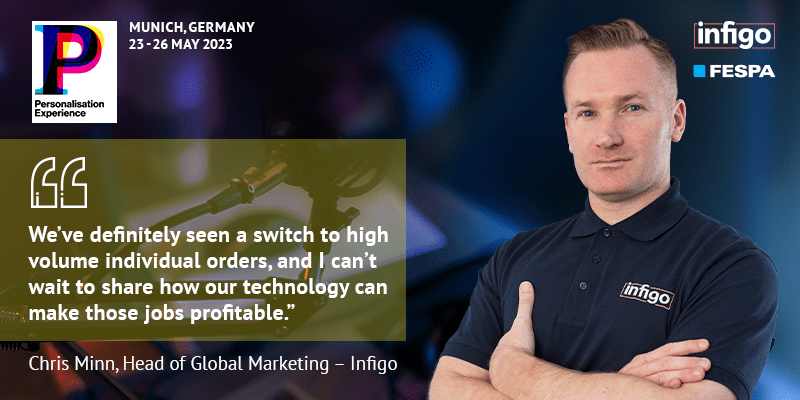 Why you need to get emotional about personalisation
It's almost rare not to receive a personalised offer these days. Whether that's Amazon recommending your next purchase or Netflix suggesting your next binge, we now expect a personalised offer.
And from a business point of view, this approach is highly effective. Data shows that 80% of consumers are more likely to make a purchase from a brand that provides personalised experiences, while they are more than twice as likely to view personalised offers as important versus unimportant.
"It's the thought that counts…"
And the evidence shows that we are increasingly buying personalised gifts for our loved ones. Let's take the success of Etsy, for example. Etsy is an e-commerce platform focused on small businesses and artisans which sell handmade or vintage items.
Launched in 2005 the platform has gone from strength-to-strength. For example, Etsy generated $2.32 billion revenue in 2021, a 34% year-on-year increase. In 2020, its annual revenues increased by 112%.
So, in short, we are seeing increasing demand for personalisation across a number of sectors and channels. All of which provides a number of opportunities in the B2B and B2C printing and packaging sectors, if you have the right web-to-print platform and integrated workflow in place.
What do we mean by personalisation?
So there are a number of different ways personalisation can be leveraged. It might be that you order a personalised card or photo gift for your partner or parents from Etsy or Not On The High Street. Or it could be that you personalise the packaging of your cat's pet food, to include their name or photo. However, the science shows that this helps build an emotional attachment at both the point of ordering and for the end recipient.
The buyer feels that emotional attachment at the point of creating and ordering the personalised product. Likewise the recipient feels that emotional engagement when they receive it – even if it was them that personalised the pet food packaging, for example.
But we also see this from a B2B sense. If you create a portal for your corporate client, that's personalised with their own branding, and the products are personalised to their job function, the data shows that they are likely to order more.
According to Salesforce, 70% of consumers say a company's understanding of their personal needs influences their loyalty.
So, as we say personalisation can be leveraged in a number of different ways.
Millennials demand a different buying experience
Regardless of whether they are buying for themselves or for their business, Millennials (those who didn't know a world before the internet) have completely different buying expectations. As well as expecting a personalised experience, they also demand a seamless transaction, with automated updates, identical to buying from Amazon.
And 73% of B2B buyers are now millennials. Because of the digital world they've grown up in, they're a bit more impatient than previous generations. They expect to upload content, fill in minimal data and see their personalisation come to life. In summary they want a quick slick user experience, with slick editing options. And then they're probably looking for a fast turnaround from the printer, with regular updates, without actually speaking to the printer. They just want to get notifications from the shipping agent to say it'll be here tomorrow.
Integration is the key to web-to-print
So is an automated, personalised experience possible with web-to-print? With the right platform it is. Because when you can easily create storefronts, that are personalised or targeted at specific sectors or offering specific solutions, you can take orders 24/7.
And when your web-to-print platform is integrated with your CRM, MIS, shipping providers and a host of other systems, you can process and print 24/7 and personalise at scale. Data is synced from one platform to another, eliminating rekeying errors and creating a smoother process for both you and your customers.
FESPA's Personalisation Experience Munich
I could go on for hours talking about the emotional impact of personalisation and the workflow benefits of web-to-print. Thankfully, that's what I've been invited to do between 23-26th May, at FESPA's Personalisation Experience in Munich.
Along with several other of my Infigo colleagues, I will be available to demonstrate the platform at Infigo stand: B99, in Hall A3, opposite club FESPA and the VIP Print area and I'll also be appearing on the show's official podcast to talk about the benefits of personalisation and how it can be achieved in print. I can't wake to catch up with you there.
FREE tickets worth up to €160
To come along to the Personalisation Experience, co-located with FESPA's Global Print Expo and European Sign Expo 2023, with up to 2 FREE tickets per organisation, worth up to €160, get in touch.