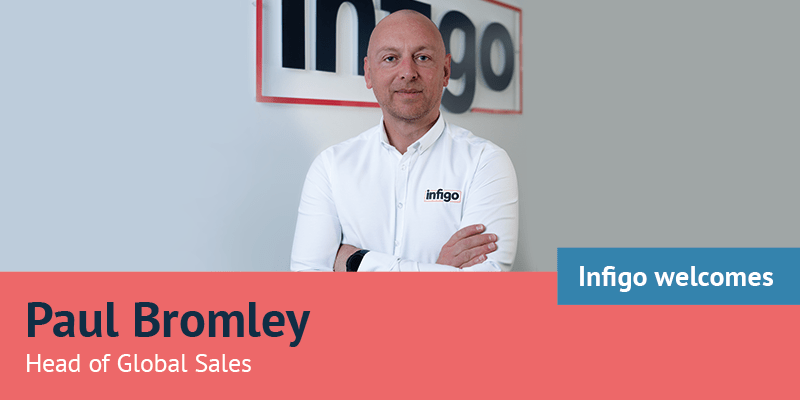 Print automation expert, Paul Bromley, joins forces with Infigo, as the market-leading web-to-print software provider continues expansion. 
We are very excited to announce the addition of print automation guru, Paul Bromley, as Head of Global Sales here at Infigo. With over 15 years of industry experience at the highest level, it is safe to say that Paul brings a wealth of knowledge and expertise to the ever-expanding Infigo space. 
Bromley's appointment as Head of Global Sales comes at an exciting time for Infigo, as we continue to innovate and develop our suite of industry-leading web-to-print software solutions. With a focus on providing seamless and efficient workflows for clients, Infigo recognises the importance of having the right people on-board who understand the industry's evolving demands. 
Commenting on the new appointment, Infigo CEO & Founder, Douglas Gibson said, "We are delighted to welcome Paul to the Infigo family. As we continue to expand and develop our offering, it is essential that we bring on-board individuals who have a deep understanding of the industry and have what it takes to deliver a winning workflow."
Paul's wealth of experience and expertise in this area make him an excellent addition to our team." 
Bromley, who joins us from a senior management position at another industry-leading player, said, "I am thrilled to be joining Infigo at such an exciting time. The company's focus on providing innovative web-to-print solutions that meet the needs of modern businesses is impressive, and I look forward to being a part of this dynamic team." 
Paul continued: "Generating both growth and success is the main objective here, and this goes for both existing and future customers".  
Infigo's state-of-the-art suite of web-to-print software solutions enables businesses to streamline their printing processes, reducing costs and increasing efficiency. With Bromley's experience and expertise, Infigo is well-positioned to continue on its growth trajectory, all whilst delivering innovative solutions to its clients. 
As this week sees two of North America's biggest print shows back to back, you can stop-by to congratulate Paul on his new position in person at either Dscoop Booth: 501 from 7-10th May, or Graphics Canada Booth: 5222 on May 11-13th 2023.