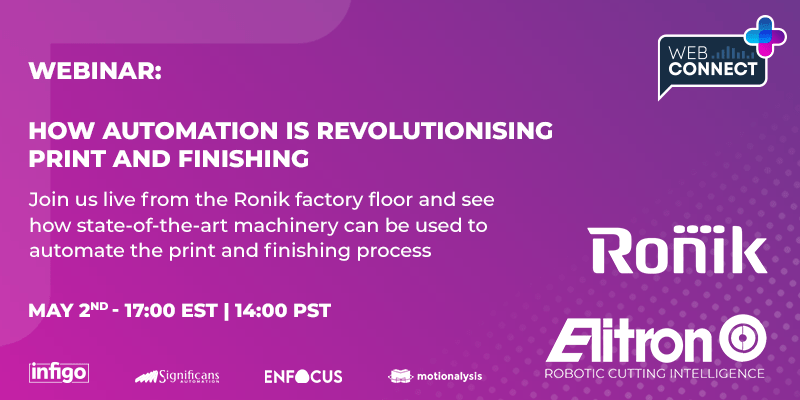 How automation is revolutionising print and finishing
Join us on Tuesday 2nd May 2023 at 17.00 EST/14.00 PST, where print automation community Web Connect+ will be demonstrating, live from the Ronik factory floor, how state-of-the-art machinery can be used to automate the print and finishing process, during their latest online session.
In recent months, Web Connect+ has presented a series of virtual events, explaining how the entire print and packaging production process can be automated with the use of integrated software.
However in this the next installment, hosted by Director of Special Projects at Significans Automation, Stan Carmichael, the focus will switch to hardware. During the webinar, attendees will see Ronik's revolutionary RAY X printer in action, combined with Elitron's robotic cutting and automated solutions, to manufacture a finished product, without any human intervention, from start to finish.
Broadcast live from Ronik's state-of-the-art factory floor in Ontario, Canada, the session will also feature Ronik Marketing Manager, Rimpy Bhullar and Elitron America National Sales Manager, Marc Rannow.
Rimpy said on the upcoming session: "It's been fascinating hearing from all the other partners and seeing automation at the front end of the customer journey and print process.
"However, I have to be biased, I think this is going to be the session that really sticks in people's minds. From a visual point of view, seeing the end of an automated workflow for the first time gives you a real idea of how you can keep the shopfloor running 24/7."
Marc Rannow said: "I genuinely think that many of the attendees will have their minds blown by what can be achieved with robotics and automation, and as these sessions have shown, none of these platforms work in isolation.
"Those who invest in this technology will see a serious competitive advantage through recovery of efficiency, improvements in quality, production flexibility, optimization of spaces, reduction of personnel costs, speeding up of time-to-market and the ability to use materials differently."
Webinar attendees will be only be getting a taster of what they can expect from the Web Connect + team during their industry-first demonstration at Graphics Canada Booth: 5222, between May 13-16.
A whopping SIX partners from the Web Connect+ community (Elitron, Infigo, Motionalysis, Ronick, Significans Automation and Enfocus) will be working together in harmony, demonstrating live for the first time on an expo floor, a fully automated and integrated turnkey print production process – from ordering through a web-to-print storefront, all the way through to printing and finishing, without a single human touchpoint in between.
If you're unable to make it to Graphics Canada, this webinar will give you the chance to speak to experts across the Web Connect + community during a dedicated Q&A segment.
Stan, Rhimpy and Marc will also be joined virtually by a spokesperson from each of the attending partners; Infigo Head of Global Marketing, Chris Minn, Significans Automation President, Marc Raad, Motionalysis Co-founder, Erin Hollandsworth and George Folickman from Enfocus.
And if that's not enough, also joining will be special guest speaker, Dan Mustata, Event Director, from Graphics Canada Expo, who will be sharing details of how attendees can register for free VIP tickets for the event, worth up to $80.
So, save your seat now and we look forward to seeing you on May 2nd, 17.00 EST.
About Ronik
Ronik create high speed, grand-format flatbed printers for all types of rigid media, signage and displays. Ronik has created a new state of the art "Print on Demand" series of printers – the Ray X series. This is a powerful, upgradable print engine with the latest technology that is easy to run and easy to maintain. Using the highest quality build but simple design, these printers are built to last. The Ray X series of printers have been properly tested with beta units in the field and ready for market.
About Elitron
Elitron is a technological partner for companies, from small-medium enterprises to market leaders, who want to redesign their production models through robotic cutting and automation solutions. Starting from listening to the specific needs of the customer, Elitron's expertise is to generate competitive advantages through recovery of efficiency, improvements in quality, production flexibility, space optimization, reduction of personnel costs, speeding up time to market, ability to use different and innovative materials.
About Infigo
Infigo provide innovative web-to-print e-commerce software solutions for business users across a vast range of industries. Our goal is to strengthen our clients' businesses by improving workflow efficiency, enabling new revenue opportunities and delivering a competitive advantage. Through strategic partnerships, we have rapidly expanded in the marketplace, becoming one of the world's leading web-to-print providers.
About Significans Automation
Significans Automation is a software integrator specializing in delivering next-generation automation to the Printing and Packaging industry. Significans offer programming and expertise in custom workflow development, deployment of communication and project management systems, color management, and end-to-end business integration. While upholding software neutrality, Significans Automation advises and tailors best in class software to optimally fit the environment.
About Enfocus
Enfocus creates the most versatile automation software for file handling across print & beyond, delivered through a worldwide community of experts and solution partners. Established in 1993 and headquartered in Gent, Belgium, Enfocus is a global provider of PDF validation and process automation software.
About Motionalysis
It can be intimidating for companies that are used to larger quantity runs to get into shorter run business. One difficulty is combining different orders into the same run. Motionalysis is committed to helping manufacturers digitally transform their business by liberating their data, freeing them from vendor lock and building scalable, technical debt free systems that get better with time.