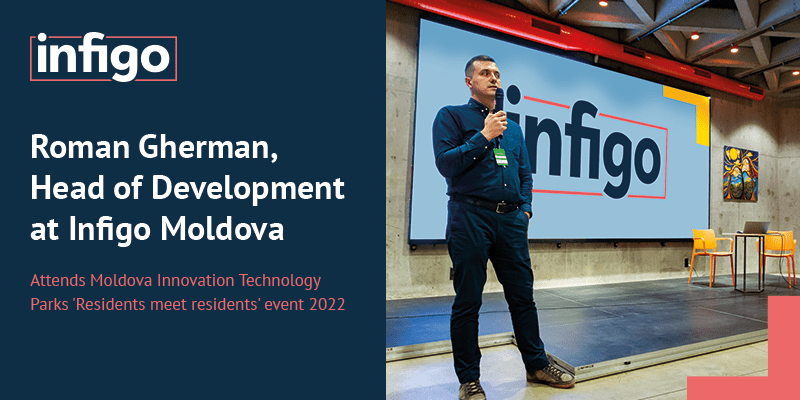 Why Infigo is rubbing European shoulders with Silicon Valley's hottest start-ups
One of the main reasons why Infigo has achieved such significant growth in recent years is because of our highly talented development team based in Moldova.
Infigo has had a presence in the country's capital Chișinău since 2016, when it created a two-man development team. Since 2018 Infigo has been a member of Moldova's IT Park – a virtual collective of some of the hottest tech companies around, which serves as the European base for some of the latest innovators from Silicon Valley.
Beginning life with just two developers, the Moldovan team is now 17 strong. Not only does the Moldovan team give Infigo wider coverage of the world clock, but they are also integral to every project Infigo takes on, from the build stage to QA & testing, to ongoing support.
Recently Roman Gherman, Head of Development at Infigo Moldova, attended the IT Park's first face-to-face "Residents meet residents" networking event.
Networking with Europe's hottest start-ups
Roman decided to attend the event for several reasons. He said: "One was to see how other companies are working and getting new projects, and how they hire and keep employees happy, especially after the Covid period. Another reason was to do some networking, get some contacts, and let people know about Infigo in Moldova, and what we are doing."
Seeing as the IT Park serves as a virtual European base for development companies from all over the world, the event, held in Chișinău's ARTCOR – Center for Creative Industries of Moldova, gave Roman the perfect opportunity to hear from some of the most innovative software providers around.
Each participant introduced themselves with a 60 second elevator pitch, covering who they were, the tech providers they represent, who their target market is and the problem the solution solves.
Roman said the event provided significant learning opportunities: "I was surprised to find that there are so many companies that have 4-7 employees, but they worked on pretty big projects that are high profile here in Moldova.
"I also had a discussion with the Global Head of Risk & Compliance and Regional Director – Moldova at Mixbook (a Silicon Valley start-up that works on personalized photo books, cards, calendars, and wall art), and asked about how they felt having a presence in Moldova and found out many interesting things."
Fuelling economic growth and developing talent
Moldova's tech sector is attractive due to its quality employees and low labour and operational costs. The IT Park was created in 2018 to provide tax incentives for tech start-ups and scale ups to have a European presence. To develop the concept, PwC (PricewaterhouseCoopers) worked with both public and private sector stakeholders to create a legal framework, design the IT park, and embed the concept into law.
According to PwC the park has had an immensely positive economic impact on Moldova – resulting in increased salaries, exports and retention.
There are now more than 600 resident companies, which generated approximately €200m in revenue in 2020.
More than a quarter of these are international companies, representing 33 countries, while 44% are newly created companies. PWC states the initiative also provides stable employment for Moldova's citizens. As a result, more than 10,300 employees (more than 50% of the country's potential IT workforce) have seen a steady salary growth of approximately 30% since the park's creation.
This has helped to keep youth in the country and foster greater participation in the formal economy.
This is why we are so incredibly proud of our Moldovan team and how they are helping to drive the tech industry forward.