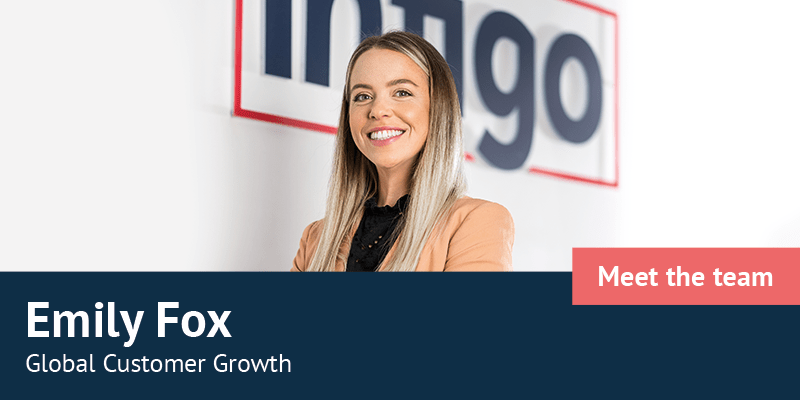 Our meet the team collection introduces different members of the Infigo team in a slightly different light, to show a side to them that you've most likely never seen before. This time is the turn of Emily Fox – who shares a few of her creature comforts, out of hour activities, and some insights into what makes her tick.
Position
Global Customer Growth
Location
East Sussex
Length of service
4 years
Currently listening to
Kisstory
What's your favorite food?
Italiano
What's your biggest achievement in the last 2 years? 
We've recently moved into our dream house in the Sussex countryside!
What do you enjoy most about working for Infigo?
Definitely the amazing team of people around me that I work with on a daily basis.
What are your hobbies? 
Cooking, eating and drinking
What can't you live without? 
I married my husband in October 2021, so definitely him, our lovely dog Bertie, and the fresh countryside air that i'm fortunate enough to have on my doorstep
Tell us a bit about yourself, in your own words? 
When I first joined Infigo, I had no experience or knowledge about the printing industry – I had no idea just how much work and detail goes into printing a brochure or piece of packaging. It's actually quite impressive how much technology is out there to make the production of printed items happen! It has been a huge learning curve understanding all about the industry, but as well about the technology behind it, and more importantly our product and how it fits within the market. I enjoy speaking with customers and bringing their vision to life through our innovative solution. It is really great to see businesses thrive with Infigo!
My role at the company is focusing on new customers – growing our customer base globally. I work with customers to help them make business decisions that will allow them to grow and automate, as well as discover new revenue streams. I work closely with our marketing team too, sharing ideas and bringing content to prospects on the market.
A little about me – I have been in sales for the past 8 years, varying roles which haven't been that challenging. Infigo challenges me daily and I love that. I never went to university, so straight into work fresh out of school. When I was 21, I started up my own bakery and delicatessen with my mum which was a massive success for 4 years, and it actually gave me some amazing work experience which I was able to apply to future roles. Then at my second job, working at a local country pub/restaurant, I met our CEO, Douglas and he asked me to come and work for Infigo, when the time was right I joined and it has been a great journey ever since.
Tell us a fun fact not many people know about you 
I used to compete in showjumping up until the age of 22. Started riding at the age of 5 and it was my entire life back then!
What is your dream holiday location?
The Maldives or Scotland, depending on the time of year
Why would you recommend Infigo to potential customers?
We are such an innovative company, with one of the best products on the market.
On most weekends, we can find you
Relaxing at home & cooking, or out with friends for drinks
Beach or mountain?
Mountain. I love a walk with a view!
We hope you enjoyed our meet the team feature. Stay tuned for future additions, when we will be shining the spotlight on another member of the Infigo team.