The only overhead you'll worry about, is the sun.
Find out how you can spend more time relaxing at the beach this summer, by automating your print processes and generating cash-flow, at The Personalisation Experience, co-located with FESPA's Global Print and European Sign Expo 2023, held between May 23-26 in Munich.
By transforming our show space into a chilled-out beach shack vibe, visitors can find us at Infigo Stand: A52 (opposite the Personalisation Application and VIP Print areas), where they will see first-hand how our market-leading web-to-print solution can be utilised for easily creating storefronts, with a powerful online editor, so customers can upload content and edit and personalise their own designs.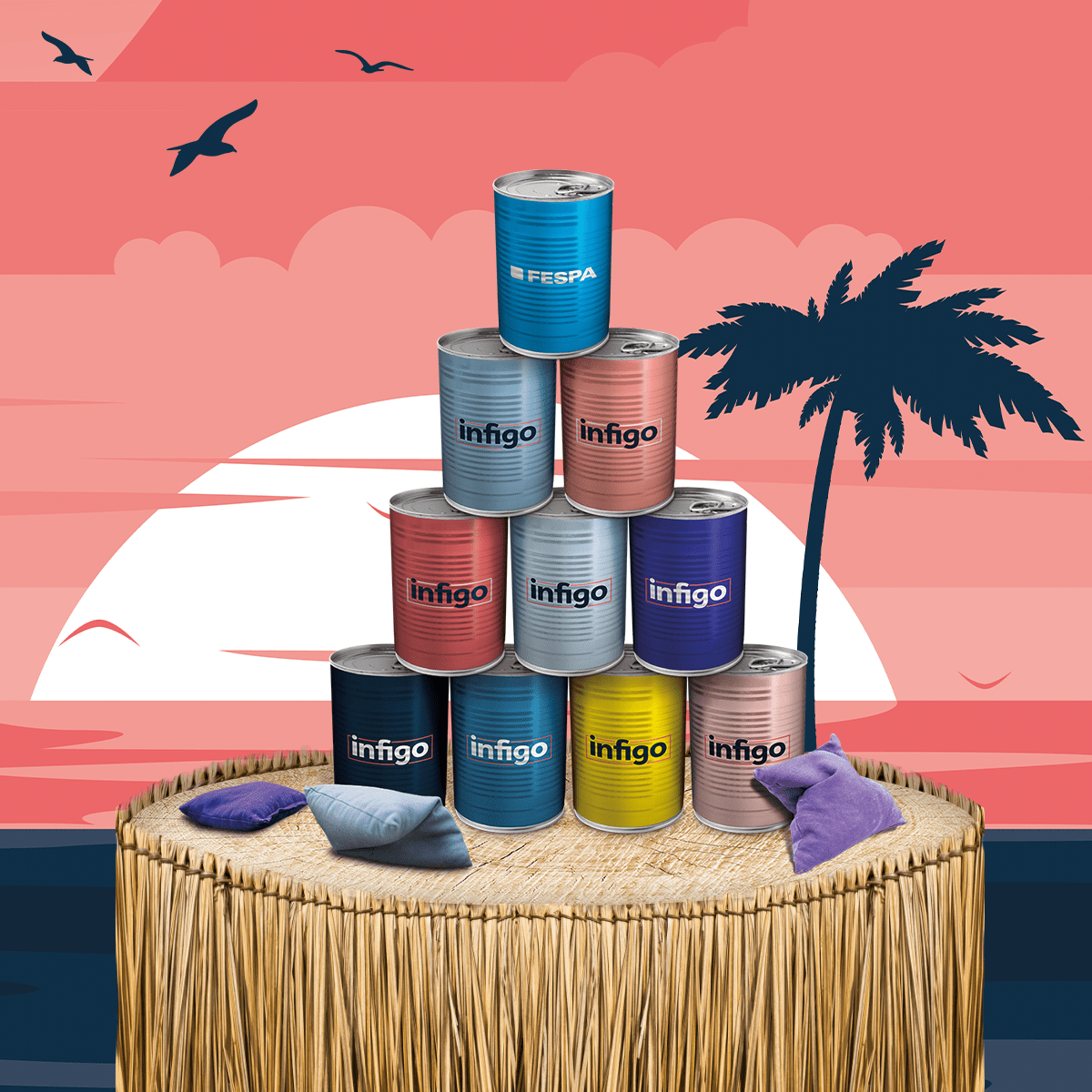 We won't be hard to miss..
Decked out in Hawaiian shirts, shorts, flip-flops and sunglasses (as well as a responsible application of suncream) The Infigo team will be on hand to show how our software can be integrated in partnership with our friends at HP, Kongsberg and Enfocus, to create a fully automated experience.
This not only cuts out manual touch points but also means that you can significantly reduce your overheads, by streamlining the entire production process.
So, you can kick-back and bask in the sun, knowing that the orders are not only coming in, but also being sent on to the production line.
Good things come in fours
Infigo are proud to team up at this year's Personalisation Experience with partners HP, Kongsberg and Enfocus, to offer an end-to-end demonstration of a fully automated workflow.
Keep your eyes peeled for our partners 'Life's a beach' themed surfboard signs at the expo, and experience the following steps live in-action:
Infigo: Web-to-print & workflow
In true Infigo style, we'll be offering the opportunity to create your own various personalised gifts, all via our market-leading web-to-print solution. Tying in with our chilled-out beach shack theme, visitors can choose from their own personalised mini desktop-sized surfboard, or beach towel, ready for the imminent summer sunshine.
HP: Print & processing
Once you've successfully placed an order through the Infigo platform, your next stop will be HP Stand: D10, where you will see the job file proofed and the imposition calculated via Enfocus Switch, prior to going through to the HP press.
Kongsburg: Cutting & finishing 
Now you've got your hands on a printed product, it's time to visit Kongsburg Stand: B30 to see each item cut and prepared, ready to leave the tradeshow floor.
Enfocus: Cocktails & refreshments 
The finish line. You've made it through a fully automated workflow, from start-to-finish. The reward? Cocktails, beers and a selection of refreshing non-alcoholic drinks will be served from Enfocus Stand: E51, all whilst collecting your completed personalised products, ready to take home with you.
Win a state-of-the-art VR headset worth over €250
If that wasn't tempting enough, we're also offering the opportunity to win a state-of-the-art VR headset, worth over €250 at our Tin Can Alley challenge. All you have to do is knock down all 10 cans in 3 throws to be entered in the draw.
Chris Minn, Head of Global Marketing at Infigo said: "The tide really is turning for print providers. Demand is switching from large volume jobs from a small number of clients to smaller jobs from a wider client base.
"This is why personalisation at scale is so important for printers. When our platform is integrated into your workflow, you can achieve much, much more for less.
"You can take orders 24/7, knowing that many of the manual checks are taken care of by automated technology.
"The fact is, print buyers, particularly those who have grown up with the internet and smartphones, expect to be able to order from the beach, or wherever they are, at any time of the day. They expect a seamless digital transaction, which they can edit and personalise themselves, whether they are ordering business cards, packaging for their street food business or creating a personalised mail-drop.
"They expect email notifications to tell them their order has been submitted, received, processed and shipped. And we're already seeing that printers that are able to offer an online, automated service are riding the e-commerce wave. Sadly, those that aren't are in danger of sinking."
"So, whether you want to use that time to hit the beach, target larger clients, have more team building days or just kick sand in the faces of your competitors, come and say "aloha" at Infigo Stand: A52."
Come along with FREE tickets worth up to €160
To come along to the Personalisation Experience with up to 2 FREE tickets per organisation, worth up to €160, get in touch.