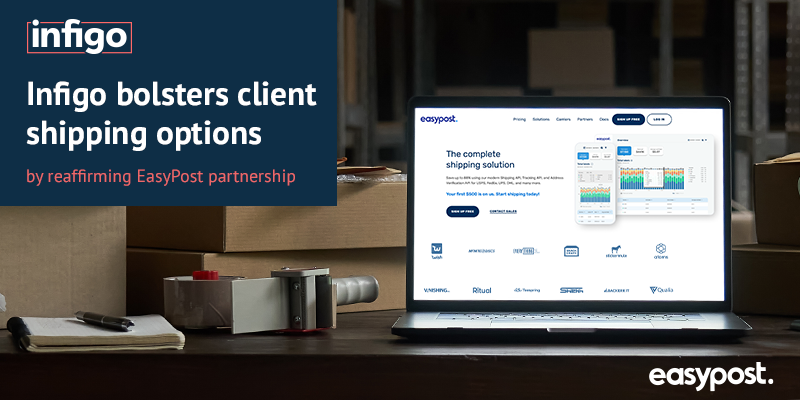 Infigo empowers clients' shipping option by reaffirming EasyPost partnership
Print providers using our web-to-print platform can offer customers a variety of shipping options through our continued partnership with EasyPost.
EasyPost, a leading provider of shipping APIs, simplifies logistics for online merchants, such as those using the Infigo web-to-print solution.
EasyPost's Shipping API makes it easy for customers to shop between carriers, buy and print labels, verify addresses, track packages, and insure shipments when ordering print products through an Infigo web-to-print storefront.
Wherever you or your customer are based the integration offers a range of local and global shipping providers including USPS, UPS, FedEx, DHL, and many others.
This saves time for both you and the customer when calculating shipping costs and cuts down on the weight at the store package tracking and package insurance options.
Greg Young, Head of Customer Success here at Infigo, said: "Printers are increasingly needing to offer their customers an end-to-end e-commerce solution. Customers are so used to an Amazon-like experience that anything less is seen as out of date and hard work!
"By simplifying the shipping process and being able to offer a range of services, from the quickest delivery to the most environmentally friendly, Infigo users can really improve the customer experience with our EasyPost integration."
It's this integration between Infigo and EasyPost that offers many benefits to Infigo users, including a highly reliable shipping infrastructure that boasts 99.99% uptime and offers connections to dozens of carriers globally, all in a single integration.
Sam Hancock, Vice President of Customer Success at EasyPost, said: "As e-commerce continues to explode and become more complex, printers are looking for modern and innovative ways to improve the customer experience and make ordering as simple as possible.
"EasyPost's shipping integration with Infigo places print sellers in a firm position to leverage scalable and reliable solutions that will drive efficiency and a positive customer experience."