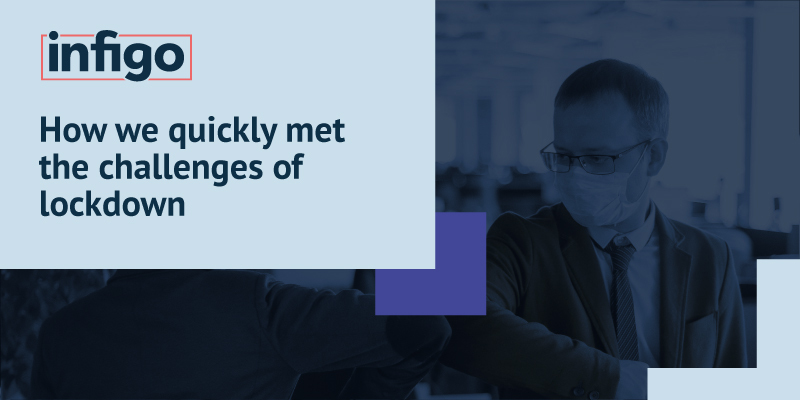 We're sure we're not the first business to say that 2020 hasn't exactly panned out how we expected. However, when you're regularly talking about how cloud-based software can ensure your business continues to operate, even when you're working remotely or during a crisis, you have to put your money where your mouth is.
Once lockdown was announced, we had to ensure:
 The safety of our staff was guaranteed
 Our team could work remotely without any negative impact on our customers
 We could collaborate effectively with colleagues and partners and continue to push the business forward.
Because we have staff and customers based around the world, and regularly attend international events, we already had an effective digital infrastructure in place. In other words, we are used to keeping the business running smoothly, wherever our team happens to be.
So while it was sad to mothball head office (because at Infigo we see ourselves as a family rather than just co-workers), we were able to provide the same high level technical support we are renowned for, remotely and uninterrupted.
Helping clients adapt during lockdown
Unsurprisingly, a large part of our work over the last few months has been helping clients adapt to the sudden change in circumstances – most looking to automate and diversifying revenue streams as a way to increase cash flow while operating with reduced manpower.
We are proud to have assisted plenty of clients build Covid-19 related storefronts or introduce Covid-19 related products to their range. Approximately 30% of our customer base shifted their focus from traditional print items to manufacturing products like visors and face masks.
We noticed the introduction of new products happening in phases. Firstly, we saw clients add PPE lines, such as branded hand sanitisers and masks. Then, floor stickers and other types of social distancing signage started to be offered. And some clients really pushed the boundaries of innovation. For example, one client has been, manufacturing pop up desks to cater for the sudden increase in employees working from home.
As our web-to-print software automates laborious tasks, such as taking orders, pre-flighting or updating clients on job progress, no extra staff were required, even when workload increased due to the demand of Covid-19 related products.
In fact, the automation allowed staff to dedicate their time to tasks that really required their skill and judgment. With social distancing rules, it also meant businesses could maximise efficiency and productivity with a reduced workforce.
Preparing for the future
We have also seen some of our clients developing new products they could produce and sell in the long term, even in the event of further lockdowns.
For example, Sensitive Matters, which produces customisable books to help explain donor conception and surrogacy to young children, is now ready to launch memory books, which can be used to ease the symptoms of dementia sufferers.
We helped another client completely overhaul their cashflow by switching from invoicing for customers (in which case, payment was received up to 90 days after the job was completed), to an e-commerce model. This means that for selected products and clients, they can now take payment upfront, at the moment the user places an order (before the job has even started), which obviously massively reduces the financial pressure for any business under the current climate.
Proud to be part of the printing community
Obviously, the last few months hasn't been plain sailing for any business or sector. However, at Infigo, we have been overwhelmed by the camaraderie and innovation displayed by the printing community. Greg Young, Customer Success Director, who was on the front line for Infigo, directly helping customers during lockdown, says:
"I have seen so many Infigo clients pivot their offering to produce masks, visors, scrub kit templates, NHS colouring posters, pop-up beds, pop-up desks and chairs. And this on top of the normal production of informational posters, labels, leaflets, stickers and packaging to name but a few.
I am proud to work in an industry driven by innovation. Driven by humanity. Driven by community."
I am also proud to see so many customers embracing a difficult period by investing time into their web-to-print solutions. When they come out of the other side of this crisis, they will be ready to hit the ground running."
To all of our customers, suppliers, partners and friends within the industry; keep driving forward."
If you would like to find out more about how we can support your business during this difficult time, contact one of our experts for a free 1-on-1 demo.