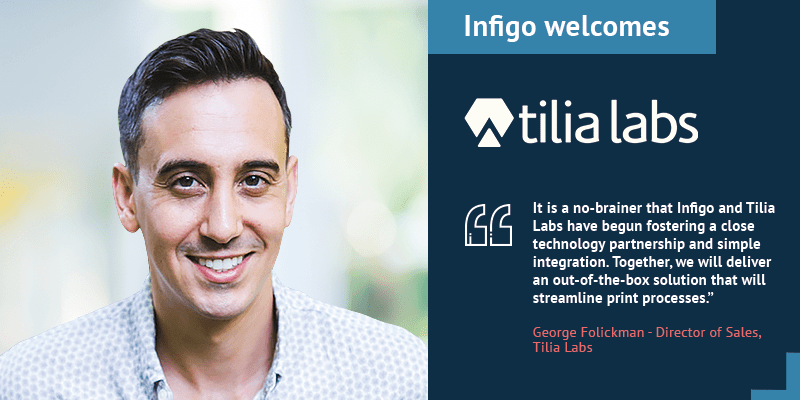 Infigo and Tilia Labs team up to improve efficiency and automation for print clients.
As the leading provider of personalised print and e-commerce solutions, we are proud to have partnered with Tilia Labs, the Canadian software company that provides printers with user-friendly solutions that improve cost-efficiency through automation, to enable users to utilise Tilia's Phoenix product through an Infigo storefront.
Tilia Phoenix is the printing industry's only automated, AI-driven pre-production software for packaging, labels, commercial, and wide format sectors.
The partnership between the two companies will enable clients to order and edit their designs online through an Infigo storefront, viewing a 3D preview of their order, including additional post-print features, such as embossing and foil stamping.
After the pre-flighting stages and file check via systems like Enfocus Switch, hundreds of optimized layouts will be able to be created in a matter of seconds utilizing Tilia Phoenix as part of the imposition process.
George Folickman, Director of Sales at Tilia Labs Inc. says:
 "At Tilia Labs, we place a high degree of value on a modern, elegant user experience, designed in such a way that it is both simple and impactful. We strive to develop these qualities in our own software and look for partners who embrace a similar ideology.
So it is a no-brainer that Infigo and Tilia Labs have begun fostering a close technology partnership and simple integration. The rising demand for personalization and short runs creates a need for both an elegant front-end web store and an automated backend imposition system to reduce human touches and maximize profit. Together, Tilia Labs and Infigo deliver an out-of-the-box solution to streamline this process."
Antonia Fagan, Partnership Manager at Infigo, adds:
"It is fantastic to be working with such an innovative partner like Tilia. Increasing efficiency and automation is so paramount in everything we all do and this partnership can only help that further."
This is the latest partnership between the two companies, after, together with Significans, they recently joined forces to form global online community Web Connect+. This aims to give print companies around the world an insight into how Artificial Intelligence (AI) and automation are transforming the industry and how it can also transform their own businesses.
I am really excited to be working with George and the rest of the Tilia Labs team in official partnership capacity. Having already worked together on a number of different projects, as well as hosting a joint user event alongside printIQ & Enfocus in October 2022, I have no doubt that this new partnership will create a number opportunities for Infigo and Tilia Labs customers alike and look forward to successful future.