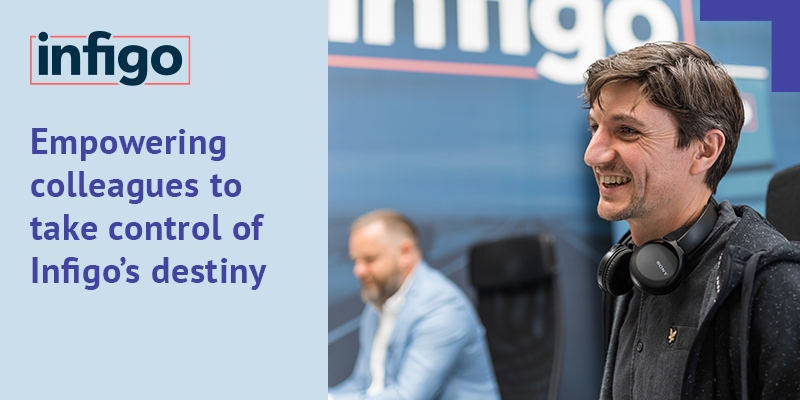 Deploying a software update isn't quite the same as evading an enemy submarine, 300m below the sea. However, you may be surprised to know that one of the reasons Infigo is constantly able to meet the demands of our customers, is by adopting similar techniques pioneered by a US naval captain.
Why you shouldn't follow the leader
Back in the 1980s US Naval Captain David Marquet was reassigned, at short notice, to command the USS Santa Fe.
During a drill to simulate a fault with the reactor David gave the order of, "ahead two-thirds." As was standard practice, the officer on deck repeated the order, "ahead two-thirds."
The sub remained stationary.
It turned out there was no "two-thirds" setting, unlike the other submarines Marquet had served on.
However, like everyone else in the US Navy, the officer had been conditioned to repeat and not question any command given by his superior – even if he knew it wasn't possible to carry out the order.
Captain Marquet realised that the traditional leader-follower approach to commanding a submarine was at best inefficient and at worst could result in global conflict. Which was when he began to develop an intent-driven approach to leadership.
What is intent driven leadership?
In a nutshell, intent-based leadership involves giving control and decision-making power to the experts, rather than "the leaders". So rather than a captain giving an order, which is repeated ad-nauseum, the crew are given the overarching intent or objective.
It is left to them to suggest tactics and strategies in their specialist field to achieve the objective.
Which is an approach we are developing at Infigo.
A culture of trust and empowerment
We take the mindset of setting out long-term goals and objectives and then hire people that have that experience and expertise in different fields to achieve those aims.
This has been achieved through a slight shift in our organisational structure, which is based on empowering our staff to suggest efficient processes and tactics rather than us dictating how it should be done.
For example, we have just gone through our yearly appraisal process of setting KPIs for each of our teams. However, while we guide the teams through the overarching objectives it's up to them to set their own KPIs and deliverables. So what does this mean in practice?
Often it's down to subtle use of language. For example, rather than team members being encouraged to say "Should I do this?", we encourage them to say "I think we should do this?".
And as long as they have carried out their research and can justify why this is a more efficient way of achieving the business goals, then they are empowered to crack on.
Looking down for answers
Another way of describing this approach is to flip the age-old habit of looking up for the answers. So rather than the exec teams or our CEO Douglas Gibson making all the decisions, the solutions and decisions are provided and made by those that are best placed to make them. So it's more about looking down or across for the answers.
For example, I've recently taken on a new role. Rather than just having the development team reporting to me I now have a variety of teams reporting to me: professional services and delivery, project management, customer success, and customer support.
I will be honest, I am not an expert in all those disciplines, but I realised quite quickly that I do not need to be. I do not need to know everything about customer support or customer success. I need the people that are running it to be the experts and they need to be trusted.
So, I don't have to go away and research "what's the best way to run a support team". I must empower our head of customer support to do that.
I am there to set the high-level business objectives, and offer my support and guidance, and Hannah is there to decide how they can be achieved.
Investing in people
A critical aspect of empowering staff is providing the training and coaching they require. Again, this is not a case of forcing team members on courses that we feel would be best for them.
We ask them what training they feel they need and the format that would suit them best. For some it might be a 5-day intensive residential course. For others it might be weekly online learning. Again, it's all about what is the most effective way for them to learn or improve their skills and be able to implement them successfully.