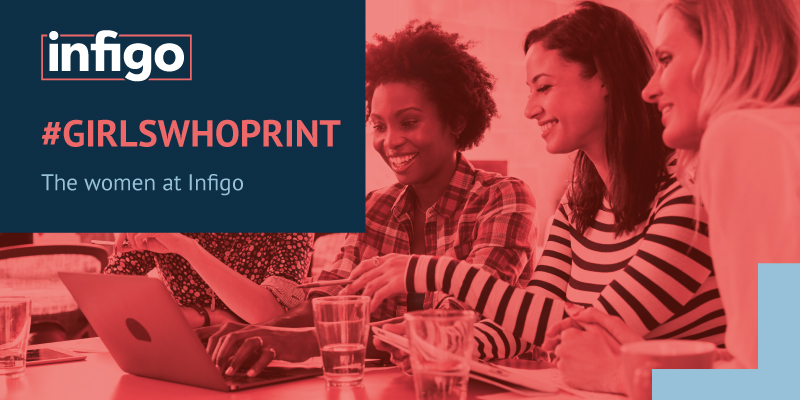 To celebrate #GIRLSWHOPRINT DAY 2020, we collated testimonials from some of the women who work at Infigo. Read their views on being a part of the printing industry.
Melanie Walters, Business Sales Manager
Having recently joined Infigo (and the printing industry) as the Business Sales Manager, I get to help streamline our clients web-to-print solutions. With a sales background primarily in the gifting industry, I was regularly purchasing print products such as graphic boards, brochures, business cards etc. Being on the other side of the table has made me realise how easy we can take for granted what goes on behind the scenes of a click of a button. I have been overwhelmed at the possibilities that the printing industry offers and am eager to make my imprint with Infigo!
Emily Fox, Business Development Executive
I joined the printing industry in late 2018, when I started at Infigo, with no prior knowledge of the industry at all. Since becoming part of the team, I have learnt a lot about print and realised how it really is everywhere! As part of the sales team, I am responsible for bringing companies into the world of web-to-print with our software solution. It is great to be part of the team here at Infigo, and to see our customers grow and automate their businesses through modern technology.
Julie Minn, Chief Operating Officer
I have been involved with print in a few ways over my career. I spent 12 years in the conference and events industry, offering badging software, which printed both on paper and direct to plastic card, and selling the printers to produce those badges onsite at events. For the past 5 years, I have been working at Infigo, currently in the position of COO, with a brilliant team alongside me. It's a world of exciting opportunities and we can offer so much to those in the printing industry so they can benefit their businesses. I can say life in print is varied and interesting, never dull and you meet some colourful people.
Juliana Zapp, Marketing Manager
I joined Infigo in February 2017 as part of a department that offered marketing services to external customers. It was the first time I worked with clients in the printing industry and used a web-to-print system. I quickly learned how dynamic this industry is – people are very energetic, technology is always evolving and there is always a lot going on. About 5 months ago, I started heading the marketing activities for Infigo. My team and I focus on creating insightful and educational content not only related to our software, but about web-to-print as a solution.
Becky Bray, Junior Designer
I've worked at Infigo for 9 years now and I love every moment of it. Being able to work around design is something I've always wanted to do since I was at school. Working here has really opened my eyes to how much I can do and how much more I can learn about design. Everyone is great to work with and we all get along really well. I am really happy working at Infigo,
Rebecca Mayne, Accounting Manager
Infigo has a brilliant and diverse team who, combined with our software, enables our customers to produce amazing products. Having worked for Infigo for many years, I have always found it incredible to see the endless opportunities that are in print! It's great to follow the customer journey from concept through to the design and development, all the way to the final result of a beautiful printed product.